Given the fast pace at which many dietary supplements enter the marketplace and reports that suggest that some of these products do not actually contain the ingredients or quantities shown on the label, consumers have cause to be concerned. With such a confusing array of information out there, it can be difficult to determine which manufacturers' products are credible.
That's why NSF International led the development of the nation's first truly independent testing standard and product certification program strictly for dietary supplements, NSF/ANSI 173.
NSF International's Certified for Sport® program builds on that dietary supplements standard and helps athletes make safer decisions when choosing sports supplements. MLB, NHL and CFL clubs are permitted to provide and recommend only products that are Certified for Sport®. Certified for Sport® is also recommended by the NFL, PGA, LPGA, CCES, CPSDA and many other sports organizations.

There are numerous quality components of the Certified for Sport® certification program, which verifies that:
Products do not contain any of approximately 270+ substances banned by major athletic organizations.
The contents of the supplement actually match what is printed on the label.
There are no unsafe levels of contaminants in the tested products.
The product is manufactured at a facility that is GMP registered and audited twice annually for quality and safety by NSF International.
The New NSF Certified for Sport® Certification Mark
This new mark will replace the current Certified for Sport® mark that exists on sports nutrition products today.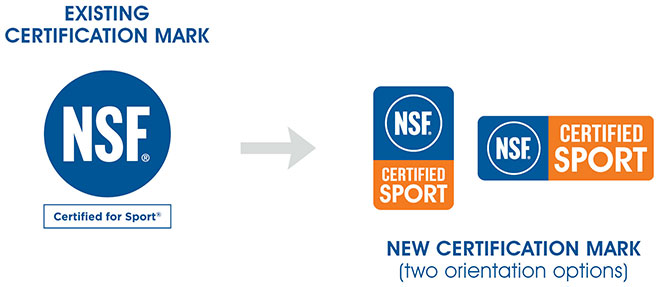 Why the New Design?
Feedback from brand owners, coaches, athletes and consumers prompted a redesign to create a unique and instantly recognizable mark to better distinguish certified products on retail shelves.
Color and Readability
The new mark features a two-toned design. While the NSF blue is still prominent, half of the mark is now orange—a style first adopted in our popular mobile app icon. The new mark redesign ensures the text is simplified, clear and large to help eliminate any confusion at retail.
Transition
The transition from the current Certified for Sport® mark to the new design on product packaging will be fully implemented by June 30, 2020. You may see both the current and the new mark designs on product packages during this transition period.