NSF's Certified for Sport® app helps you find tested, safer sports supplements, functional food, and cosmetics/personal care products in just seconds. We built our app listening to athletes, coaches, trainers and users of sports nutrition supplements. It features a clean, intuitive design with a variety of search and display features to suit your individual goals.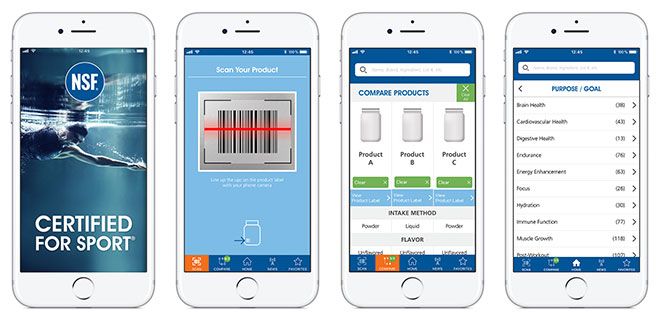 Smart Search Capabilities and Barcode Scanning
Advanced tasks, such as UPC barcode scanning, make it more convenient than ever to explore Certified for Sport® products.
Expanded search capabilities allow you to search by product type or by goal.
Side-by-side comparison features allow you to make smart and effective decisions about which products (supplement, functional food or cosmetics/personal care) best fit your fitness needs.
Favorites and Push Notifications for New Certified Products
Stay up to date on the sports supplements, functional food and cosmetics/ personal care products that matter to you with our push notification and favorites features. Compile lists of your preferred products or brands with one tap and get notified of important Certified for Sport® certification updates as they happen.
Trusted Source for Safer, Tested Supplements
NSF is an independent and accredited non-governmental organization whose mission is to protect and improve global human health. We do this by leading the development of public health and safety standards and by testing and certifying products and systems to those standards.
Certified products and systems earn the NSF mark, which is respected by consumers, manufacturers, retailers and regulatory agencies. Deeply rooted in science, we are widely recognized as the "gold standard" for quality in areas such as water systems, food safety and health sciences including dietary supplements, functional food and cosmetics/personal care.